Cables Calefactores
Productos: Paralelos potencia constante | Autorregulantes | Serie | Drain Line | Abrazaderas calefactoras
< Paralelos potencia constante
Heating Cable for Railway Projects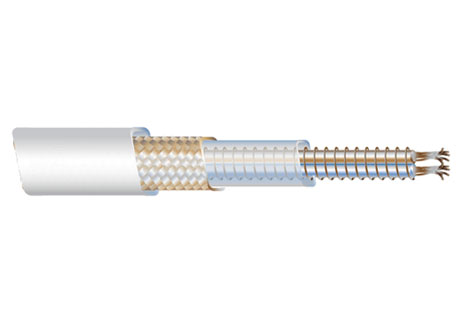 Characteristics
Conductor sections 2x1.5mm² (other conductor sections, on request)
Hard-wearing and flexible
Can be cut to length on site
Extremely simple termination
Cold tail incorporated: no extra connection necessary
Power supply: On request
230 V / 380 V
Applications
These cables are commonly used to protect railway lines in countries with very harsh climates. This version is ideal for keeping the rails clear of snow and for protecting them from freezing.
Cable structure: Silicone parallel heating cable + tinned copper metal braid + high temperature silicone 250ºC outer sheath.
To ensure that the cables have a long service life, it is recommended to use a control device.
Technical Features
| | |
| --- | --- |
| Heating wire | Nickel-Copper or Nickel-Chrome |
| Dimensions cable | 10 mm x 7.5 mm |
| Power | On request |
| Conductor insulations | Silicone elastomer |
| Outer sheath | High Temperature Silicone |
| Permissible surface temperature | From -70ºC to 250ºC |
| Distance contact points | On request |
| Certificates | CE Certificate and Rohs Declaration |