Cables Calefactores
Productos: Paralelos potencia constante | Autorregulantes | Serie | Drain Line | Abrazaderas calefactoras
< Paralelos potencia constante
PVC Parallel Heating Cable + Metal Braid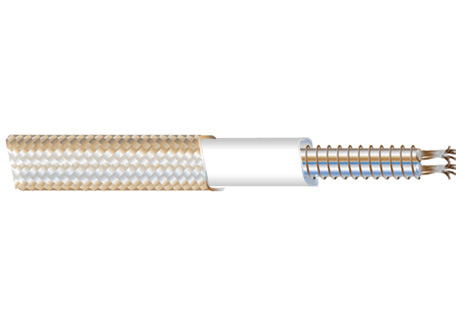 Characteristics
Conductor sections 2x0.75 mm², 2x1.5mm² or 2x2.5mm²
Hard-wearing and flexible
Can be cut to length on site
Extremely simple termination
Cold tail incorporated: no extra connection necessary
Available as 20 W/m. Anther power, on request
Power supply: 230 V as standard (115 V and 400 V on request)
Applications
These cables are particularly suitable for protecting against freezing and maintaining low temperatures.
This version is the most economical in the range of parallel heating cables for industrial use.
The 10 W/m heating cable is recommended for plastic piping.
Cable structure: Parallel conductor + PVC insulation + metal braid for mechanical protection and earthing.
Technical Features
Heating wire
Nickel-Copper or Nickel-Chrome
Dimensions cable
2x0.75 mm² (±5.9x7.8mm)
2x1.5 mm² (±5.4mmx8.4mm)
2x2.5 mm² (±6.3mmx9.3mm)
Power
Up to 20 W/m
Metal braid
Tinned copper/ polished
copper/ stainless steel
Conductor
Silicone elastomer
Outer sheath
PVC 105ºC
Surface temperature
From - 30ºC to 90 ºC
Tolerances
Power ±5% /Diameter 0.1 mm
Contact points
0.6 m – 1 m
Certificates
CE Certificate, Rohs Declaration
Conductor
Power
Max.circuit length
Max. Tª. maintenance
2x0.75mm²
10W/m
15W/m
20W/m
170 m
140 m
120 m
60ºC
50ºC
40ºC
2x1.5mm²
10W/m
15W/m
20W/m
290 m
210 m
160 m
60ºC
50ºC
40ºC
2x.2.5mm²
10W/m
15W/m
20W/m
390 m
280 m
215 m
60ºC
50ºC
40ºC