Cables Calefactores
Productos: Paralelos potencia constante | Autorregulantes | Serie | Drain Line | Abrazaderas calefactoras
< Paralelos potencia constante
Silicone Parallel Heating Cable + Metal Braid + FEP/PFA Outer Sheath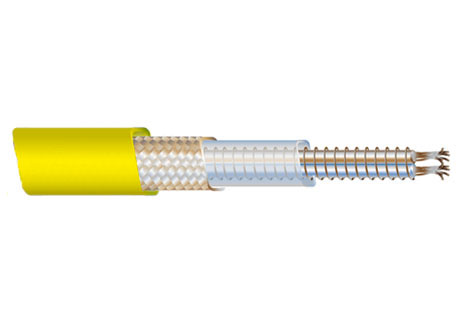 Characteristics
Conductor sections 2x0.75 mm², 2x1.5mm² or 2x2.5mm²
Hard-wearing and flexible
Can be cut to length on site
Extremely simple termination
Cold tail incorporated: no extra connection necessary
Available as 20 W/m, 30 W/m or 40 W/m. Another power on request
Power supply: 230 V as standard (24 V and 400 V on request)
Applications
These cables are particularly suitable for maintaining temperatures of up to + 150ºC.
Their fluoropolymer insulation endows them with the ability to withstand corrosive substances, making these cables particularly well-suited for use in chemical industry.
Cable structure: Parallel conductor + silicone insulation or high temperature silicone insulation + metal braid for mechanical protection and earthing + FEP/PFA insulation outer sheath.
Technical Features
Heating wire
Nickel-Copper or Nickel-Chrome
Dimensions cable
2x0.75 mm² (±7.5x5.4mm)
2x1.5 mm² (±8.2x6.2mm)
2x2.5 mm² (±10.1x7.6m)
Power
Up to 40 W/m
Metal braid
Tinned copper/ polished copper/ stainless steel
Conductor
Silicone elastomer
Outer sheath
FEP or PFA
Surface temperature
FEP - From 70ºC to 200ºC
PFA - From 70ºC to 250ºC
Tolerances
Power ±5% /Diameter 0.1 mm
Contact points
0.6 m – 1 m
Certificates
CE Certificate, Rohs Declaration
Conductor
Power
Max.circuit length
Max. Tª. maintenance
2x0.75mm²
20W/m
30W/m
40W/m
120 m
100 m
65 m
150ºC
140ºC
120ºC
2x1.5mm²
20W/m
30W/m
40W/m
160 m
120 m
90 m
150ºC
140ºC
120ºC
2x.2.5mm²
20W/m
30W/m
40W/m
215 m
165 m
120 m
150ºC
140ºC
120ºC